By
Harley
in
Ass Licking Phone Sex
,
Bisexual Phone Sex
,
Hardcore Phone Sex
,
Harley's Blogs
,
Submissive Phone Sex
,
Threesomes
,
Training my Bitch
I couldn't decide what to wear for Girl's Night. I have so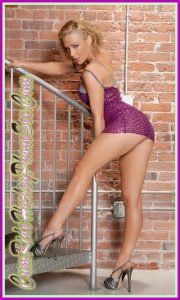 many sexy dresses, heels and panties that I needed some help choosing. Who better to help me decide than one of my sissy boy friends. I mean he is good for so many fucking things, and fashion is just one of them. My condo is pretty much a 24/7 party so when I came back down in my shortest dress and stilettos I noticed two of my fuck buddies where over too.
It was obvious they thought I looked amazingly hot by the bulge in their pants. Normally I would have fucked them both but I had plans, and we had reservations for table service at very hard to get in club. I winked at my sissy friend whose mouth was already drooling. LMAO, not at me, at them, of course.
I love guy on guy action, but I didn't have time to stick around and watch. My Uber was waiting, and my wet pussy would have to wait till I got in the car. I can always count on my deviant lot of friends. While I finger banged my hot, creamy pussy they were sending me pictures of Sissy Boy sucking cock and getting fucked. An awesome start of Girl's Night.


My Sites:
Smitten Kittens
The Klassy Kat