By
Harley
in
Fetish Play
,
Financial domination
,
Freaky Phone Sex
,
Hardcore Phone Sex
,
Harley's Blogs
,
Uncategorized
I got an awesome fucking new job as a party planner. The pay is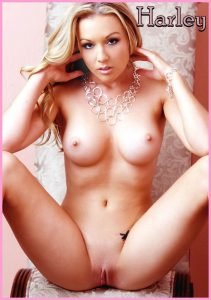 great and it has so many perks. I meet a lot of rich older men and find out enough about their lives to blackmail them for whatever I want. The married ones are my favorite as after I fuck their brains out I own them in every way.
The party I planned for New Years Eve had me working close for months with an older man and his boring wife. I knew everything about their lives and his numerous indiscretions. I can't say I blame him as she was such a fucking prude and he loved to party in a big way. He even had a place in the city to get away from her and do his own thing.
The night before the party I decided it would be a blast to spend  the night in his "love nest" and to learn more about his private life away from her. It was amazing with beautiful furniture, tons of jewelry and a closet full of sexy clothes. I was in the middle of modeling for my friends on cam when I heard him at the bedroom door. I wasn't worried at all, I mean I knew his secrets. I am a crazy dominant bitch but he did something that made me do whatever he wanted that night.
Want to find out what it takes to turn your girl Har into a submissive little slut for the night? Hit me up and if it turns out you are submissive, well I can go that way as well!


My Sites:
Smitten Kittens
The Klassy Kat